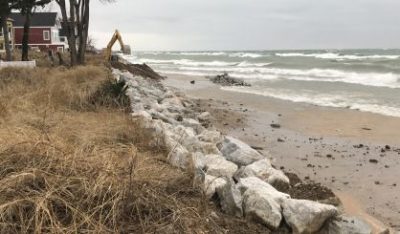 More shoreline protection will be going in along the coast south of Silver Beach County Park in St. Joseph. City engineer Tim Zebell says rock revetments will be put in at the end of 3rd, 2nd, and Park streets through a contract with B&Z Company for just over $197,000.
"First Street is notably absent and that's because several property owners south of there have not committed to putting in shoreline protection yet, though we do understand they're discussion options right now," Zebell told the St. Joseph City Commission on Monday.
He says the city went with B&Z because they're already working with nine of the 10 property owners in the area who are installing rock revetments to slow down or stop the erosion from Lake Michigan. After meeting with Abonmarche, the city decided to match what's being done with the private property.
"The reason being is the shoreline protection structure, if it's built en masse, a continuous uniform line across a beachfront works the best, explained Zebell.
No date was set for the work to begin, but it's likely to get underway very soon due to the threat posed by high water levels on Lake Michigan.