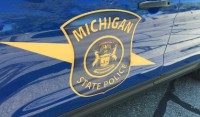 There will be extra Michigan State Police troopers out on I-94 this coming week, but it's not the average drivers they're necessarily watching. Inspector Patrick Morris with the MSP Commercial Vehicle Enforcement Division tells WSJM News the Eyes on 94 initiative has troopers stepping up enforcement for large commercial vehicles.
"About 60% of the time, it's not the commercial vehicle at fault," Morris said. "However, there is a portion of time, obviously, that the commercial vehicle driver is at fault."
Morris says troopers want to make sure those big rig drivers are not speeding, following too closely, or using their cell phones.
"We specifically choose this time of year because it does kick off that winter driving season where road conditions do play a factor in addition to driving behavior."
Morris says I-94 is known to be prone to weather-related crashes. Michigan State Police are teaming up with their counterparts in Ohio, Illinois, and Indiana for the Eyes On 94 effort.