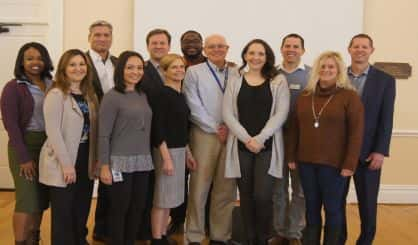 The St. Joseph-Benton Harbor Rotary Club Foundation has announced its grant recipients for 2019. Secretary Bill Healy tells WSJM News the Rotary is giving out $59,000 to eight groups in the area. It's a local tradition.
"The foundation was established in 1980, and over $900,000 in grants to various area causes have been awarded," Healy said.
Healy says the 2019 grant recipients were selected by the foundation board after it received 29 applications.
"Typically, emphasis is given to entities that provide better opportunities for youth and special needs populations."
The other recipients are the Berrien-Cass-Van Buren Workforce Development Board, the Boys and Girls Club of Benton Harbor, LOGAN Community Resources, Mosaic CCDA, and Senior Nutrition Serves. The grants range in size from $5,000 to $15,000.
Below is a full list of the grant recipients.
Benton Harbor Public Library – $5,000 for Read by Grade 3 program. This program provides routine tutoring time for volunteers to work with students who are struggling to read. Funding will support the purchase of work books and other materials for parents to use with their children to help develop their reading skills. Playaway educational tablet computers will also be purchased to support early literacy and reading development. The library will also be purchasing hands-on learning activities to be included in Teaching Aid kits. This program will serve all patrons of the Benton Harbor Public Library.
Berrien-Cass-Van Buren Workforce Development Board, Inc. – $7,850 for Learn and Earn Adult Education Project. This project will enable adult learners in Benton Harbor and surrounding communities to increase their Educational Functioning Level (EFL) and ultimately, earn their GED on a remote basis. The inclusion of mobile technology in the Bridge Academy's Adult Education Program will allow staff to provide qualifying adult students with remote learning opportunities.
Boys & Girls Club of Benton Harbor – $5,000 for Young Leaders program. This program will bring nationally-recognized B&GC programming to identified elementary students in the St. Joseph Public Schools. Identified children will attend a three-hour program rotation after school, three days per week at E.P. Clarke Elementary School. Programs will include Power Hour (daily homework completion and common core standard tutoring), Passport to Manhood and SMART Girls (gender-specific programs for boys and girls that focus on various aspects of male and female growth, Triple Play (health and wellness programs, Torch Club (leadership council), and Junior Youth of the Year (recognition program.
Chikaming Open Lands – $5,000 for #10 Trail Challenge. This project is designed to highlight local hiking trails. During the month of July, participants are given a selection of ten local trails to hike in our area. Along the trail, in each of these natural areas, picture frame "selfie stations" are installed. Participants win prizes for completing a specific number of trails. This funding will help facilitate 2020 expansion of this project into the St. Joseph/Benton Harbor area.
Court Appointed Special Advocates – $7,350 for Volunteer recruitment, screening, training and support. This funding will help CASA to train 15 additional volunteers who will advocate for 30-45 new children in Berrien County. CASA volunteers follow a rigorous training program and are fully vetted. Once trained, they are appointed to a particular child or sibling group by a Berrien County Family Court Judge. As they advocate, they are extensively supervised by staff. The program reimburses mileage costs for volunteers to offset the cost of the extensive travel required.
LOGAN Community Resources, Inc. – $5,800 for new Assessment Kits and iPads for autism therapy reviews. LOGAN's autism services in Michigan began in 2014 at the request of Riverwood Center/County Mental Health. Opening the new LOGAN Autism Learning Center – SWMI in September 2016 allowed for growth of the program to serve all ages. From the initial four clients and three staff members, LOGAN now serves over 200 clients with 100 staff members and an additional 50 clients with summer programming. This grant will provide additional assessment kits/tools for the 120 clients served off-site, with iPads for metrics, charting and recording. Assessments are used to determine the proper therapeutic practices, with bi-annual re-evaluations. The additional tools help determine and teach precise goals.
Mosaic CCDA – $15,000 for Jobs for Life/Powered for Life program. Jobs for Life (JFL) is a nationally recognized program that covers key employability skills–work ethic, attitude, communication, time management, problem solving, team player, self-confidence, overcoming barriers, constructive criticism, and flexibility. In both group and one-on-one mentoring, this program helps increase participants' employability, marketability, and leadership development for future, improved employment. JFL believes that "when people work, it provides dignity, value, and purpose and verifies our identity, it creates community, it produces jobs, and it renews our cities." Powered for Life is a sub-program designed with the purpose of empowering youth with a focus on 16-17 year olds.
Senior Nutrition Serves/Meals on Wheels of SW Michigan – $8,000 for No Senior Hungry in the Twin Cities. This funding will provide meals to home-bound seniors in the St. Joseph/Benton Harbor Area. Those served by the program include frail, home-bound seniors who are 60+ and unable to get out to shop or cook for themselves. Of these seniors, 66% are women, 71% caucasian, 68% reside in Benton Harbor and 32% in St. Joseph. 64% of those served by this program live alone. 48% of these seniors are considered low income but 98% report that they don't have enough money for food after living and healthcare expenses are paid. Many also have chronic conditions such as heart disease, high blood pressure and diabetes that can be better controlled with a healthy diet.
Pictured left to right: Front Row – Constance Adams (Mosaic CCDA), Jamie Brooks (Court Appointed Special Advocates for Children), Lily Brewer (Berrien-Cass-Van Buren Workforce Development Board, Inc.), Linda Strohl (Senior Nutrition Services/Meals on Wheels of SWMI), Brian Saxton and Christine Aranyos (Boys & Girls Club of Benton Harbor), Jennifer Thompson (Chikaming Open Lands). Back Row – Bill Healy (SJBH Rotary Club Foundation Secretary), Stephen Smith (SJBH Rotary Club Foundation President), Andrew Robinson (Mosaic CCDA), David Eisenhart and Matt Harrington (LOGAN Community Resources, Inc.). Not Pictured – Kat Boyer (Benton Harbor Public Library)