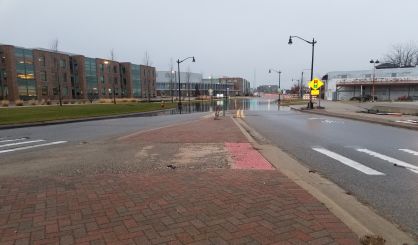 This week opened up with part of Main Street in Benton Harbor closed to traffic again due to flooding, although it was opened back up on Tuesday morning. The problem area is near the roundabout by the Whirlpool Riverview campus, and Michigan Department of Transportation spokesperson Nick Schirripa says there's not much that can be done. Schirripa tells WSJM News the fundamental problem is the high water level in Lake Michigan, and that's not something MDOT can fix. However, he says there may be one thing MDOT can do to respond.
"One of the things we're looking at potentially doing is adding some pavement to that little stretch of Main Street west of Riverview, and kind of lifting that up out of the water," Schirrpa said. "It would solve that problem on the surface, it would get that road out of the water, but that does not address the problem that that water still is there."
Of course, such a project couldn't happen until next spring. Schirripa says the underlying issue remains the high lake level, which results in water coming out on to the road.
"That water doesn't have anywhere to go. There's nowhere to drain because the drain is already underwater."
Schirripa says MDOT understands it's part of the solution, working with the city of Benton Harbor and the Berrien County Drain Commissioner to mitigate flooding. In the meantime, he says MDOT can only close that stretch of road while maintaining access to businesses until action is taken or the lake level goes back down.