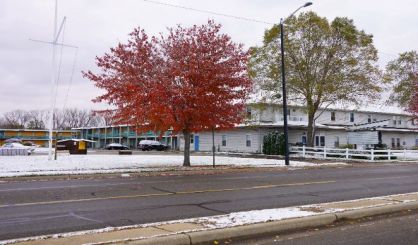 Berrien County Treasurer Bret Witkowski and Benton Harbor Interim City Manager Ellis Mitchell are putting out an appeal for help to be found for the residents of the New Harbor Condominium complex on Riverview Drive now that the complex has been condemned. News cam this week everyone who lives at the complex will have to leave. Witkowski tells WSJM News his office foreclosed on 43 of the 90 units this year, and problems with the facility have grown.
"The situation has deteriorated quite a bit over there, and it has been deteriorating for a number of years," Witkowski said. "The city did do code enforcement and inspections, and they have condemned it, and we agree with them."
The biggest issue involves water leaks. Witkowski says the city has to shut off the water before another hard freeze.
"The water that's being used at that facility, there's leaks, they could hear the leaks, and the biggest challenge for that big facility is there's only one meter for all three buildings."
Fortunately, out of the 90 units at the complex, there are only about seven residents. However, Witkowski says that's seven people who have to find a new place to live, and fast. He's asking all local organizations and individuals who can help to step forward and call his office. At a time when affordable housing in Berrien County is in very short supply, Witkowski says this development is a major blow to the people who live at the condo complex.