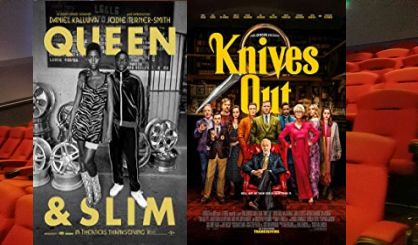 Flick Pick is a podcast about movies. In today's episode, Jacob Holmes and Andrew Green discuss the new movies playing this weekend. We've got two of them.
First up is the murder mystery, Knives Out. It's been receiving positive reviews, and should be a real hoot. Andrew plans to see it. Jacob already HAS seen it, and he'll tell us his opinion.
The other new offering is Queen and Slim. It's about a young couple that must go on the run after an incident with a police officer.
Jacob and Andrew will also discuss the new movies they have recently seen. Jacob will talk about Frozen 2 and Andrew will talk about A Beautiful Day in the Neighborhood.
Scroll down and click the Play icon to listen to this Thanksgiving-rific edition of Flick Pick!
Click here to listen to additional episodes of Flick Pick.
Podcast: Play in new window | Download | Embed
Subscribe: Apple Podcasts | Android | Email | Google Podcasts | Stitcher | Spotify | RSS | More