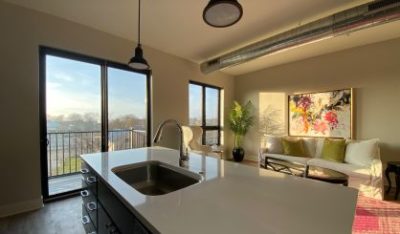 For the first time in more than a decade, there has been new development in downtown South Haven. The ribbon will be cut Friday afternoon on the new South Haven Center, which includes retail space and 18 market rate apartments. City Manager Brian Dissette says they've heard some complaints about the prices for the apartments, which range from $1,400 to $1,850 per month, especially with the area experiencing a shortage of affordable housing.
"But, we also have an immediate need for up to 100 market-rate apartments," Dissette tells WSJM News. "So, we are tackling both issues."
Dissette adds these new apartments were never described as affordable housing. He says the opening of the new apartments is a "big deal" and has resulted in other investments.
"We've got a bit of a cascade going," says Dissette. "We have a million-dollar upgrade to the building at 237 Broadway, and this past Monday night, the city council offered final approval of the redevelopment of the former Hales Block."
The new apartments at 335 Center Street range from 630 to 920 square feet, and Dissette says some have already been rented. The ribbon cutting ceremony will be held at 1:15 p.m. tomorrow.