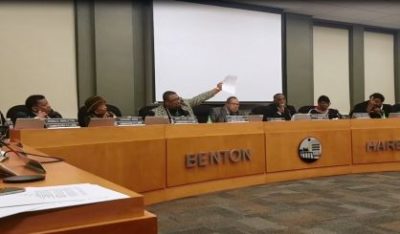 It was a packed house at Benton Harbor City Hall Monday night as the city commission set out to address a trash crisis that began last week.
The city's trash hauler, We-Cycle Industrial Sanitation, didn't pick up the garbage because its $39,000 monthly payment from the city was made not to We-Cycle's current owner, Robert Edwards, but to Virginia Huddleston, a former employee. Huddleston is in a dispute with We-Cycle over correct ownership of the company. During Monday's session, Mayor Marcus Muhammad and Pro Tem Duane Seats debated whether to just pay We-Cycle again, this time handing the money over to the person currently in charge, Mr. Edwards.
"Mr. Edwards, as I've said, should get the check," Muhammad said. "If the city fails to pay the people that we are in contract with, then the city has breached [contract]."
Seats was at first reluctant to issue another check. He also took Huddleston to task for waiting until there was a new city manager to try to collect payment. For his part, Interim City Manager Ellis Mitchell said at the end of the meeting that no mistake was made when he authorized the payment, but didn't elaborate. In the end, the city commission voted to pay We-Cycle $40,000 to get the trash picked up immediately. The body also voted to give We-Cycle 30 days' notice of termination if its issues aren't resolved.
Commissioner Mary Alice Adams abstained from all trash-related votes because Huddleston is a relative.