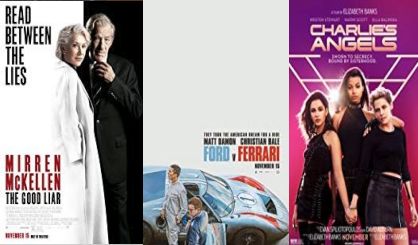 Flick Pick is a podcast about movies. In today' episode, Jacob Holmes and Andrew Green discuss the new movies playing this week in Benton Harbor.
First up is Ford v Ferrari. It's the true story of Ford Motor Company's attempt to produce a race care capable of rivaling a similar vehicle from Ferrari. Matt Damon is the Ford guy who hires Christian Bale to race the car. By all accounts, this is a quality picture. Jacob is excited.
Up next is Charlie's Angels. It's the new Charlie Angels movie, featuring Kristen Stewart and directed by Elizabeth Banks. The Angels engage in another adventure. This movie could be fun.
Third is The Good Liar. It stars Helen Mirren as a rich widow who gets romantically involved with a con artist played by Ian McKellen. Can she outwit him instead? Andrew will be there.
Our two hosts will also discuss the movies they have most recently seen. For Jacob, it's Jojo Rabbit. Since Andrew was on vacation last week, he's got four new films to talk about. They are Harriet, Doctor Sleep, Midway, and Linda Ronstadt: The Sound of my Voice.
Scroll down and click the Play icon to listen to this exciting edition of Flick Pick!
Click here to listen to additional episodes of Flick Pick.
Podcast: Play in new window | Download | Embed
Subscribe: Apple Podcasts | Android | Email | Google Podcasts | Stitcher | Spotify | RSS | More