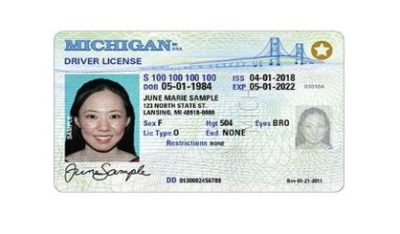 One year. That's all the time that's left to upgrade your driver's license or state ID card to one that's federally REAL-ID compliant in order to take a flight or enter any federal property. Michigan Secretary of State Jocelyn Benson says her office is pushing it hard right now to make sure no one gets a surprise next fall if they try to get on a plane without having an enhanced license. She says REAL-ID was born out of the reaction to the 9-11 attacks, with a commission coming out with a report that said every state had their own standards, with some more easily forged than others.
"This was an effort to level the playing field and ensure everyone traveling domestically via the TSA security guidelines has a federally compliant, secure ID," says Benson.
Upgrading a standard license to one that's REAL ID compliant is free, but there is a charge of $45 to upgrade to a REAL ID Enhanced License, which allows for some international travel without a passport. By comparison, obtaining a passport is $145, and it's valid for 10 years compared to four years for a driver's license. So, why not just push passports?
"Because not everyone has a passport or wants to travel with one, and a lot of people are accustomed to traveling with a driver's license and being able to have that suffice for domestic travel," explains Benson. "So, we're making sure everyone knows and is aware of their options."
Enhanced licenses are already required to travel from the U.S. to Canada, Mexico, Bermuda, or the Caribbean as part of the Western Hemisphere Travel Initiative.