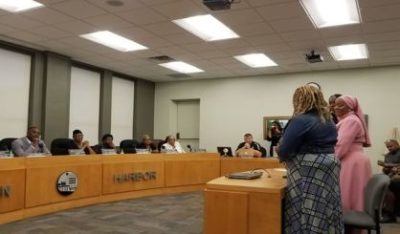 A fashion designer from Benton Harbor will show off some of her creations in Paris next month as part of Fashion Week. Benton Harbor City Commissioners on Monday heard from Candice Caldwell of Bod'e Beauty Bar & Boutique in Benton Harbor, who promised to wow the crowd. She told us a bit about her business.
"Bode Exotica Beauty Bar and Boutique is where I house my makeup studio, where I offer custom makeup services for special occasions, and I also do custom design, and generally it's design that is prom or wedding."
Caldwell was invited to Fashion Week by Carmen Williams Muhammad of Al-Nisa Designs, a women's clothing maker out of Hammond, Indiana. Muhammad told us she happened to see some of Caldwell's work, and wanted to show it off.
"Every time that I go and I appear at a major Fashion Week event, I manage to bring a delegation along with me, and I had chosen most of my delegation, but after I saw her, I said there is no way that I am going to go and do Paris and not invite this young lady."
Also heading to Paris will be Benton Harbor High School senior Ammicia Coates, who will model Caldwell's designs.
"It's amazing, an opportunity to go to Paris with two wonderful people. Just having the opportunity to pursue my dream is mind blowing."
The three got a standing ovation from city commissioners Monday. They're taking part in an October 1 show called the "Sommet International De La Mode" at Fashion Week. The three promised to return with a video of the experience for city commissioners.
Pictured: Muhammad, Caldwell, and Coates speaking to city commissioners this week.