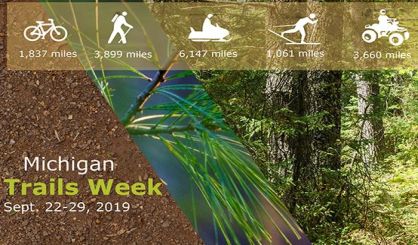 The Michigan Department of Natural Resources is urging everyone to check out some of the state's trails this month. DNR Trail Coordinator Paul Yauk tells WSJM News many people don't even know about the recreation opportunities that pass by their own homes.
"All over Michigan, and especially in west Michigan, there are a lot of great trail opportunities where you can go out for recreation, you can go out for transportation, and you can go out for a healthy lifestyle," Yauk said.
Yauk says there are more than 12,500 miles of designated trails around Michigan. You can check out the ones at state parks, and then there are the old rail trails.
"150 years ago with forestry and mining and all of these opportunities, there were a lot of railroads that were built, and then over time they were abandoned."
Yauk ways those former railroads were put to good use when the state and local communities turned them into trails. A big attraction in southwest Michigan is the Kal-Haven Trail that can take you from Kalamazoo to South Haven. The state is promoting all of its trails with Michigan.gov/TrailsWeek. You can also find a list of state trails right here.