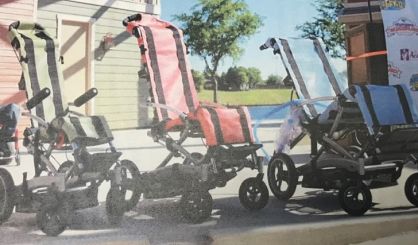 A grant of just over $9600 is being sought by the city of St. Joseph's Public Works Department to make three public recreation areas much more accessible. The city commission approved applying for the St. Joseph-Benton Harbor Rotary Foundation grant, which would purchase weather-resistant wheelchairs for the Whirlpool Compass Fountain, replace the swingset at Kiwanis Tiny Tots Park with one which includes a harness swing, and purchasing mobility sleds for the John and Dede Howard Ice Arena to allow those in wheelchairs to get on the ice. Mayor Mike Garey likes what he heard.
"I give (our) staff credit, they're always looking for improvements to our parks and making them as accessible to everybody," Garey told WSJM News. "Working with the Rotary grant really comes right in to what we're trying to do, and I think it's a fabulous idea."
Garey said it goes well with the upcoming addition of a wide non-motorized path to replace sidewalks in the area of Napier and Kingsley, including the area around Lincoln School.
"We have a long-term vision of how we can make the city as accommodating, as friendly to all residents and all visitors."
The deadline to apply for the grants is coming soon on September 20. Since the inception of the grant program in 1980, the St. Joseph-Benton Harbor Rotary Foundation has awarded almost $900,000.
Photo is of weather-resistant wheelchairs that was provided in the agenda packet as an example for the St. Joseph City Commission.