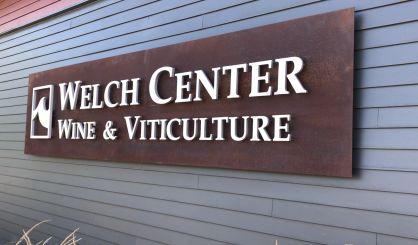 Lake Michigan College's Wine and Viticulture Technology Program is now out of the Mendel Center and into its own 14,000 square foot facility on campus. The college officially opened the Welch Center, named for supporters Mike and Lisa Welch, on Tuesday. Michael Moyer is the director of the college's wine program.
"There are few  academic facilities in the country that have a winery and a strong hands-on winemaking program associated with it," said Moyer. "But this place is really special. It's the finest one I've seen in the country."
We asked Moyer about the reaction of his students.
"They're amazed because they've been working in the Mendel Center in literally a room with poorly-drained floors and no space and to come to this facility is fantastic."
Ground was broken on the new facility in May 2018, and LMC established the first commercial teaching winery in 2015 to meet the demands of the wine industry in the region.