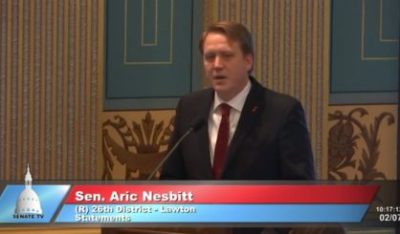 There is a proposal in the works in the state Senate to do away with Michigan's income tax.  Senator Aric Nesbitt of Lawton is behind the idea to zero out the 4.25% income tax by reducing it by a tenth of a percent over the course of several decades. Nesbitt tells WSJM News the state functioned just fine without an income tax until it was enacted in the 1960s, and looks at other states such as Texas, Nevada and Florida where the state economies are growing and residents do not have an income tax.
His bill would also end local income taxes on January 1, 2020 and prevent those from being enacted in the future. That would eliminate the current city income taxes in Benton Harbor, Grand Rapids, Lansing, Battle Creek, and other areas.
As he did in while serving in the House, Nesbitt is again introducing legislation to have the Senate take a vote on appointments by a governor to fill vacancies on the Michigan Supreme Court. We will have Nesbitt's comments on the air Thursday morning.