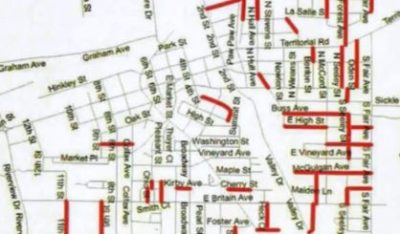 The Benton Harbor City Commission has given final approval to nearly $1 million in street repairs for this year. At a Monday meeting, a bid of $990,000 was approved for Kalin Construction to do the 2019 street resurfacing project. The work is possible thanks to the city's new income tax. Mayor Marcus Muhammad said this is why the voters approved the tax.
"We need to approve this project," Muhammad said. "The money that the residents have put forth through the income tax – we need to show them we're good stewards. Promises made, promises kept. Let's get the work done."
The streets set to receive work are located throughout the city. Under the model approved by commissioners, 80% of the work done with income tax money will be on local, neighborhood streets. The other 20% is for major streets. Commissioner Ron Singleton said the residents want to see their streets fixed, adding this project keeps the city on track.
"I think it would be most beneficial to the residents who want to see something right now."
Mayor Pro Tem Duane Seats asked about who will oversee all of the work. Mayor Muhammad said Interim City Manager Ellis Mitchell has taken the reigns after the firing of former City Manager Darwin Watson, who originally arranged for the projects. In the end, the vote to approve the bid was unanimous. The work will start this summer. Also Monday, the commission approved drainage repairs for Paw Paw Avenue near the public works department. That stretch of road has been in bad shape, prompting its temporary closing this year. The cost to fix the drainage issue will be $247,000.