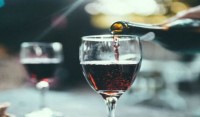 Michigan's wine industry is dealing with the problem of illegal shipments. New data from the Michigan Beer and Wine Wholesalers Association finds almost one-third of all the bottles of wine shipped into the state in the first quarter of this year were sent illegally. Association president Spencer Nevins estimates the contraband to be around 130,000 bottles.
"It harms the consumer as well because you don't know what you're actually getting," says Nevins. "There's no way to regulate what's happening with these out-of-state retailers whether they're shipping counterfeit alcohol, changing labels, whether the product's been stored correctly."
Nevins says the Michigan Liquor Control Commission is trying to get the problem under control.
"They follow up with cease-and-desist orders to try to get them to stop, but what we find with a lot of these retailers is it's kind of like whack-a-mole," Nevins tells WSJM News. "They set up one shop, and as soon as they get a cease-and-desist, they change the name and ship again."
They began compiling data on illegal wine shipments last year, and found similar numbers in both the second and fourth quarters of 2018. Nevins says the data shows out-of-state retailers have "no regard" for Michigan law, and they're calling on the Michigan Liquor Control Commission to investigate every complaint and continue to crack down. He adds illegal shipments rob the state of tax revenue and hurt small retailers and the state's wine industry.