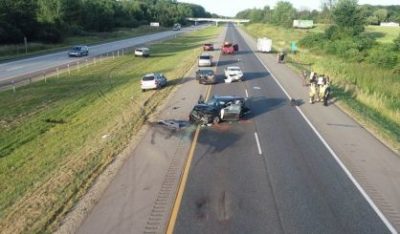 The Berrien County Sheriff's Department is investigating a Friday crash on I-94 that involved six vehicles. It says deputies were sent to the scene at eastbound I-94 near the Van Buren County line in Watervliet Township around 6:30 p.m. They learned there had been a chain reaction crash where traffic had been backed up due to construction near Hartford.
Police found a Paw Paw man unconscious in a Chevy Malibu along with an unconscious infant in the back seat. The baby was taken by ambulance to Bronson Hospital in Kalamazoo while the driver was airlifted to the same hospital. As of Saturday afternoon, the infant had regained consciousness and was doing well. The driver was still unconscious and in critical condition.
Investigators determined the man driving the Malibu didn't see that traffic was stopped and crashed into the rear of a Hyundai Sonata driven by a St Joseph resident. That caused the Sonata to crash into a Honda Civic, which was then thrown forward striking a Dodge Caravan. Meanwhile, the Malibu was also rear ended by a Hyundai Tuscan, the driver of which had not seen traffic was stopped. None of those involved apart from the Paw Paw man and the infant were seriously hurt.
The Berrien County accident investigation unit was called and is investigating the crash. It is unknown at this time if alcohol or speed were factors in the crash.