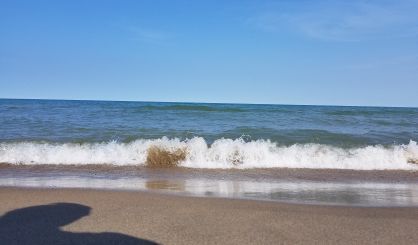 Drownings in Lake Michigan sit at 27 and counting, that's up from 15 at this time last year. The co-founder of the Great Lakes Surf Rescue Project, Dave Benjamin, says when the drownings happen has become predictable.
"The four W's: warm, wind, waves on the weekend means a high probability of people getting in trouble," Benjamin tells the Michigan News Network. "There's actually a couple more drownings on the Great Lakes that we haven't added to the statistics yet because we're waiting for additional information to confirm it was a drowning."
Benjamin says a majority of drownings happen because an individual underestimates the danger and overestimates their own ability to swim. He says they have tips if you think you might be a victim.
"The drowning survival strategy we advocate is called 'Flip, Float and Follow," and it's the 'Stop, Drop, and Roll of water safety," adds Benjamin. "Flip over on your back and you float, float to keep your head above water,  float to calm yourself down from the fear of drowning, float to conserve your energy, and then follow a safe path out of the water."