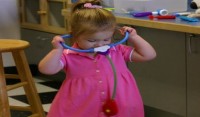 The Michigan Department of Health and Human Services is advising everyone how to be safe at fairs this summer. With so many county fairs taking place around the state, spokesperson Lynn Sutfin tells WSJM News swine flu becomes a concern. While swine influenza viruses do not usually infect humans, human infections have been reported.
"It's like a seasonal flu virus, with fever sore throat, respiratory symptoms such as a cough or a runny nose," Sutfin said. "It can also include body aches, vomiting, and diarrhea. So it's obviously something we want people to be aware of."
Sutfin says there were three human cases in Michigan last year. The state health department recommends washing your hands after being near livestock, not eating or drinking in livestock barns or show rings, not touching your eyes, nose and mouth, and staying away from the pigs if you're at high risk of serious flu complications. Sutfin notes there is no human vaccine for swine influenza and the seasonal flu vaccine will not protect against it.