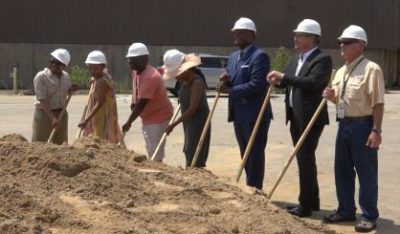 Ground has been broken on a medical marijuana production facility in Benton Harbor. NoBo Partners purchased the former Alreco Metals site for $450,000, and was granted final approval this month to move forward with its plans for a 30,000 square foot operation. Nobo's Bill Stohler said at Friday's groundbreaking Benton Harbor met the company's needs.
"Nobo chose Benton Harbor for our Midwest headquarters because of its logistic advantages, and that it's a community on the move," Stohler said. "The city of Benton Harbor currently has the fastest growing tax base in Berrien County, and we want to be a part of that. Nobo chose this location because it was identified by the current city leadership as a neglected, underutilized piece of property that was not contributing to the tax base."
Benton Harbor City Commissioner Mary Alice Adams has long advocated for operations like Nobo. We asked her how it felt to see a major project come to fruition.
"Overwhelmingly amazing to actually see movement after pulling so many teeth to make it happen."
The new medical marijuana production facility will mean 65 jobs, all to pay at least a living wage, and Stohler said Nobo is giving first consideration to Benton Harbor residents as it hires. They've already begun work on the derelict Alreco site, and Stohler expects to have staff on board in November with the first harvest early next year.