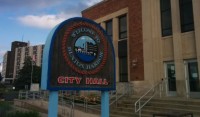 Permission has been granted for Nobo Partners to produce medical marijuana at the former Alreco Metals site in Benton Harbor. City commissioners approved a special land use permit for Nobo on Monday night. The group's Bill Stohler told WSJM News this will mean a 30,000 square foot facility at the old Alreco industrial site.
"It'll all be indoors," Stohler said. "We'll have several cultivation rooms. It'll be state of the art. We're going to use our own proprietary LED lights, and we'll be using a very advanced CO2 system for extraction."
Nobo paid $450,000 for the property, plus another $250,000 on engineering and other costs. Stohler said they had to act on faith. So why Benton Harbor?
"Benton Harbor's always had a special place in my heart. I grew up coming here since about 1980, and it just kind of gets in your blood."
Stohler says this development will mean 65 jobs, all to pay at least a living wage. He expects to have staff on in November, and the first harvest in early 2020. Applications for positions are being taken now. To apply, you can send a resume to higherstaffing@outlook.com or call 269-588-3190.