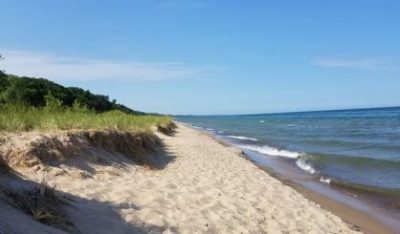 Following a weekend drowning off South Haven, the U.S. Coast Guard has some advice for those looking to cool off in Lake Michigan this summer. St. Joseph Coast Guard station Executive Petty Officer Matthew Binns tells WSJM News the high lake levels are actually making swimming more dangerous.
"Right now, the current level on the St. Joseph River is a lot stronger than it is typically because of the high water and the volume of water that's coming through," Binns said. "So when you're swimming on Tiscornia or Silver Beach, the amount of water that's coming out near the pier heads is a lot faster and a lot more dangerous than it typically is."
Binns says everyone should pay attention to the flags posted at the beaches they visit, and read the signs next to the flags to understand what they mean. He notes if you get caught in a rip current, you'll notice yourself moving fast and being dragged under. If that happens, try not to panic, and swim along the shore rather than to it. Once you feel yourself out of the strong current, you can head back.