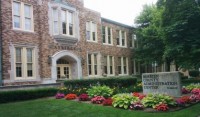 Berrien County Drain Commissioner Christopher Quattrin is hoping to help reduce a flooding problem in Coloma Township by extending an existing drain in the area. He addressed the Coloma Township Board this week, saying he would like to bolster the Kelly Drain, a creek near Rosemary Drive and Pine Court where the issue has been growing. Quattrin told WSJM News more.
"On Rosemary, particularly north of Rosemary, which is just one section of houses north of the Kelly Drain there, there's a pond in the back, which they love, but because of the high water level out there, the pond continues to grow," Quattrin said.
Quattrin says that water has encroached on properties. His idea is to extend the Kelly Drain with a pipe under Rosemary Drive.
"So we're going to extend the drain, transverse the drain, or t-off the drain coming north up to Rosemary where we'll pick up the water from the road ditch on both sides, cross Rosemary, go up between the two properties, and get up to the pond."
Quattrin says the cost would likely be between $200,000 and $300,000. What he's working on now is a way to pay for it, telling us "that's the hard part." Quattrin hopes to get to work on the project within the next year.