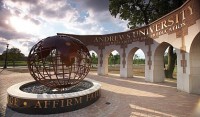 Parkinson's disease patients in southwest Michigan and northern Indiana will benefit from a grant to Andrews University to expand a therapy program focused on speech and swallowing functions. The grant will also make the therapy free for patients, who had to pay for it previously. Andrews University speech language pathologist Jenica Joseph explained to WSBT-TV that 70% of Parkinson's deaths come from a patient choking because they've swallowed something incorrectly. Joseph says the therapy is designed to help retrain the brains of those with the disease.
"They can do something. They have control of something. They have a choice every day where they can choose to do these exercises," said Jones. "That will help preserve their voice and their swallowing, or they can choose not to. But it's something within Parkinson's that they have control over."
The grant is from the Parkinson Voice Project as part of its "Speak Out & Loud Crowd program, and Andrews received a grant from the nonprofit last year, also. According to its website,the Parkinson Voice Project is the only 501(c)(3) nonprofit in the world with a sole focus on helping individuals with the disease improve their speech and swallowing.