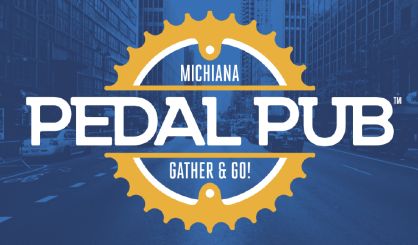 Pedal pubs are gaining in popularity across the country, and a pair of northern Indiana sisters have their eyes on St. Joseph as a possible location for a new franchise. Shellie Kermin and Julie McGinnis laid out the idea of Pedal Pub Michiana for the St. Joseph City Commission on Monday, explaining it's a bike with space for 15 riders, 10 of which would pedal and steering and control of the alcohol people bring would be with the pilot of the bike, which would be one of them. Kermin said there are rules for the riders to follow.
"We would provide this service to the age group of 21 and over, only," said Kermin. "The groups are responsible to bring their own (alcohol). We do not allow any glass, we do not allow any hard alcohol, it's just beer and wine."
Commissioner Jeff Richards summed up most of the concerns of his fellow commissioners after hearing the proposal Monday night.
"There are some potentially some congestion, cleanliness, behavior, tying up traffic when you do stop at areas so people can visit – and I think that's a good idea, except there's a lot of people on the streets," said Richards.
Both have restaurant management experience and told commissioners they have no problem stopping anyone's alcohol intake in the rare event they have had too much to drink during the two-to-three hour ride. No action was taken.
Kermin and McGinnis were asked why they picked St. Joseph and not New Buffalo, which is closer to where they both live, or even South Haven. One reason is they like how St. Joseph is laid out, which they say would work for the business. Kermin added "some cities get too big, and then it's difficult and some cities are too small, so where do you go?" Both said New Buffalo falls into the "too small" category and add if they can make it work in St. Joseph, they will be looking at other cities in the area.
Kermin and McGinnis say if they can get the go-ahead, they'd like to launch the business in the spring.