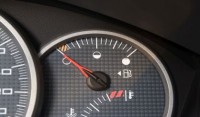 Cheap gas is easily found in southwest Michigan, with prices as low as $2.29 in South Haven and $2.40 in Stevensville as of Monday morning, but GasBuddy's Patrick DeHaan says don't wait to fill up thinking they'll drop more.
"A lot of stations have dropped their price to where they're losing money," says DeHaan. "Some stations are as low as $2.19, $2.20, $2.30, and that's traditionally the time that gas stations readjust their prices and raise them to go back to where they're making money again."
Prices have been falling since Memorial Day and Triple A says Michigan's average of $2.63 today is down 12¢ in the past week and 28¢ lower than a month ago. DeHaan predicts prices will be going up this afternoon, and could rise as much as 50¢ a gallon at some stations.