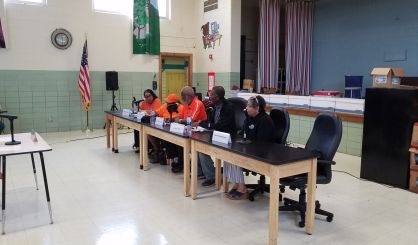 The Benton Harbor Area Schools Board of Education wants to continue working with the state on finding a solution to the school district's problems.
At a meeting Friday, the board turned down the proposal from the governor's office to close the high school in exchange for debt relief. The deadline for the board's decision was at the end of the same day. Reading a motion, board Vice President Joseph Taylor said the board would prefer not to issue a response out of concern of dividing the community, but its attorney advised a response was needed.
"We believe the board may advise the governor's office that it will not agree to the proposed plan that includes closing the high school within the district, and busing our students to other school districts within the county," Taylor stated.
Taylor's motion to turn down the plan was approved unanimously. He went on to say the board wants to submit to the state more details of its own "third option" for keeping the high school.
Whitmer administration spokesperson Tiffany Brown issued a statement after Friday's meeting, saying "The state is currently reviewing the plan that the Benton Harbor school board put on the table this week, and the governor plans to continue working with the school board to ensure K-8 students have the support they need and to ensure high school students are on track to graduate postsecondary with a degree or skills certification."