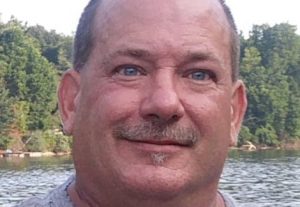 Jeffrey Allen Spear, 52, of Galien, MI passed away Friday, June 7, 2019 at his home.  He was born February 19, 1967 in St. Joseph, MI to Robert Arthur and Bonita Jean (Zech) Spear.  After graduating from Lakeshore High School in 1986, he worked as a CNC Machinist at Federal Mogul in South Bend, IN.
Jeffrey enjoyed his home and the great outdoors – hunting, fishing, gardening and spending time with his two faithful canine companions – Shelby and Molly.  He planted fruit trees and raspberries and had a few favorite mushroom hunting spots.  Jeffrey simply loved life and lived it his way while working towards and looking forward to retirement.
Jeffrey is survived by his mother, Bonita (Robert) Szygielski of Stevensville, MI; son, Zackrey (Alecia) Spear of Watervliet; grandchildren, Mason and Joscelyn Spear, brothers, Brian (Debby) Spear of Eau Claire, Michael (Chris) Spear of St. Joseph and Daniel Spear of Buchanan, MI; step-mother, Patty Spear; several nieces and nephews and many friends.
Jeffrey was preceded in death by his father, Robert A. Spear.
Cremation has taken place.  Burial and a celebration of life will take place at a later date. Arrangements entrusted to Purely Cremations – Starks Family Funeral Homes and Cremation Services 926-9440.  For those who wish to leave a condolence on-line may do so at www.purelycremations.org
Posted On: Friday, June 14, 2019 4:42 PM