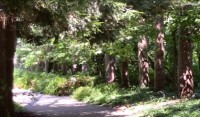 The Berrien County Health Department wants everyone to be aware of the dangers of ticks, and how to avoid them this summer. Spokesperson Gillian Conrad tells WSJM News ticks spread Lyme disease, which typically appears with a tell-tale "bull's eye rash." She says if you're outdoors this summer, you should check yourself for ticks when you get home. Know where ticks are likely to grab on to you.
"They really like to hang out in brushy, leafy sorts of areas," Conrad said. "Right along the lakeshore, in the dune grass, in the leaf litter, we've got some beautiful park with trails that just have tons of brush. These are all prime spots for ticks."
Conrad says if you see a tick on your person, pick it off. The health department can help you check a tick to determine what kind it is. The Michigan Department of Health and Human Services can do the same. You can learn more about ticks and related issues right here.