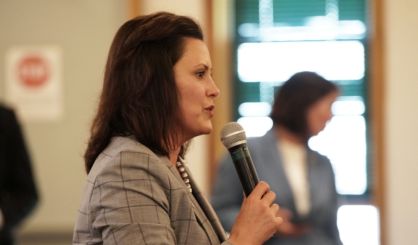 There is a slight reprieve for the Benton Harbor Area Schools Board of Education regarding the future of Benton Harbor High School. During a two-plus hour town hall at the Brotherhood of All Nations Church Tuesday evening, Governor Gretchen Whitmer said the board will get more time to either approve the state's proposal to suspend the operation of Benton Harbor High School or deliver her a viable counter proposal.
"We wanted the school board to respond by the end of this week," said Whitmer after the forum. "I think it makes sense to extend it at least another week. That's what they've requested, and that's something that made sense to me."
She also said during the forum that the plan is to not permanently close the high school, but rather to get the district's finances in order and increase student achievement as a K-8 district before going back to K-12. WSJM News asked if there is a timeline for that.
"That'll have to be a judgment call, obviously. The district getting out of debt is critical to that."
More than 200 people packed the sweltering church to let the governor, lieutenant governor, state treasurer, and state school reform officer know exactly how they felt about the proposal. While there was some limited support and understanding of the goal, the overwhelming majority left the meeting unconvinced it's the right way forward.
Photo credit: Pat Moody