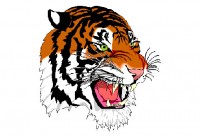 Benton Harbor Area Schools CEO Robert Herrera doesn't have much he can say about the proposal by the state to close the high school and switch the district to just grades K-8 starting in 2020.
"I know there's some level of frustration within our school community right now wading through this, and it's certainly a shock to the community," said Herrera on Friday. "We're going to work very hard with the staff and the students to help support them throughout the process as the board makes this decision, and we'll plan on moving forward into next year."
Herrera said at the end of a special meeting Friday afternoon that he was not involved in the discussions with the state over how to best move forward to eliminate the district's debt. He also reminds the community that no changes will happen this fall.
"This is a 2020 issue for us," said Herrera. "We'll be back, we'll be in session next year, and we'll be working with the students and the community to be sure we're ready for them in September."
He offered brief comments on the situation at the close of a special CEO meeting, called to approve a pair of field trips for students before the end of this school year. State officials say if the board votes down closing the high school in exchange for forgiving millions of dollars in debt, the decision will rest with the Legislature, which has historically voted to dissolve districts.