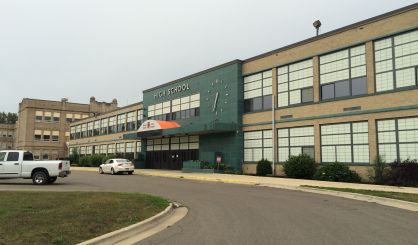 Rumors are flying and things appear up in the air for Benton Harbor High School. An announcement could be coming out of the governor's office today regarding the school's future and possible forgiveness of some of the school district's debt. Multiple sources tell WSJM News there is a 9 a.m. meeting in Lansing involving Governor Whitmer, the Treasury and Education departments, and at least two members of the Benton Harbor Area Schools Board of Education. After that is where things get cloudy.
Benton Harbor Mayor Marcus Muhammad issued a statement early Thursday morning opposing the dissolution of the high school, calling it "a reckless misadventure" which "will become a millstone around the administration of Governor Gretchen Whitmer."
Members of the governor's staff met Thursday afternoon at a Benton Harbor church with clergy members about the possibility of closing the high school. WSJM News went to that meeting and was escorted out and told that Governor Whitmer's press secretary would have information. Instead, press secretary Tiffany Brown says they have no information to share at present and "are not going to speculate on the mayor's Facebook page post" regarding the possible dissolution of Benton Harbor High School.
Several area districts have been contacted by the state regarding taking in students if the school is shut down. If that is the option chosen, Benton Harbor Area Schools will continue as a K-8 district. The option that sources tell us looks most likely is to take a maximum of 150 students from Benton Harbor High School and put them into a charter school at Lake Michigan College, operated by LMC. The rest would be divided up in some fashion among other schools, but no decision has been made.
BHAS CEO Robert Herrera tells WSJM News he has not been talking to the governor's office, but has been told brainstorming meetings have been taking place looking at options for the district. He stresses whatever the outcome, the decision rests with the school board, and he's waiting patiently to see what comes out of the meeting in Lansing.