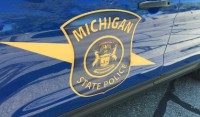 At least five years will be spent in prison by a former Michigan State Police trooper for involuntary manslaughter for firing a Taser at a Detroit teenager who crashed an all-terrain vehicle and died. Mark Bessner told a judge Monday that he understands the anger of Damon [[ duh-MON ]] Grimes' family.
"I want the family to know I am sorry," said Bessner. "I think about it every day. If there were a time machine I could jump into and go back and change it, I would."
The former trooper faces up to 15 years but is eligible for parole after five. Bessner says he shot Grimes with a Taser from a moving patrol car because he believed the 15-year-old had a gun, but he was unarmed.