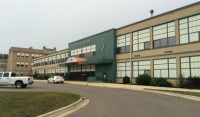 Benton Harbor Area Schools CEO Robert Herrera is looking for employment elsewhere. He's scheduled to be interviewed for the position of superintendent of Farmington Public Schools in the Detroit area on Wednesday night. Herrera is one of seven candidates being interviewed for that post this week. Benton Harbor Area Schools Board of Education Trustee Joseph Taylor told our newsgathering partners at WSBT the news is shocking, given that Herrera still has three years on his contract.
"If he was to get the job, I would hope that he would help with the transition planned for the next superintendent, and if he doesn't get the job, now the board knows that he's looking for work outside the district, I just hope that he can maintain a working relationship with the board in the best interests of the kids."
Herrera has issued a statement saying he has recently chosen to pursue other career opportunities. He tells us changes taking place at Benton Harbor Area Schools in regards to the arrangements with the state have contributed to that decision. Herrera says nobody has given him clear guidance regarding his role once the cooperative agreement between the state and Benton Harbor Area Schools ends this summer. He will address the issue at Tuesday's Benton Harbor Area Schools CEO meeting.