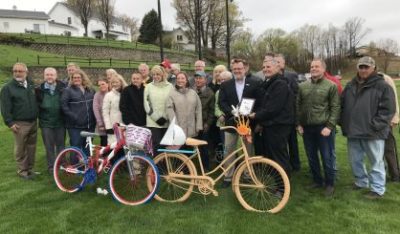 A Pure Michigan Trail Town is now in southwest Michigan. South Haven was one of four towns to be awarded the designation Tuesday morning by Travel Michigan vice president Dave Lorenz.
"Communities like this really make Pure Michigan what it is, a place we can all be proud of," said Lorenz. "Pride is a really important thing when it comes to community development and economic development as well."
Scott Reinert is the executive director of the South Haven/Van Buren County Convention & Visitors Bureau and talked to WSJM News about what the naming of the city as a Trail Town will mean.
"It really recognizes the effort of people around our community to develop and promote our trails," Reinert said. "But moving forward, it will give us access to opportunities and grants that will help us build our trails network."
The South Haven area has over 48 miles of hiking and biking trails, 91 miles of kayaking and canoeing trails, and 11 miles of horseback riding trails. This summer, Reinert says they will also have a bike trail stretching from lake to lake between South Haven and Port Huron.