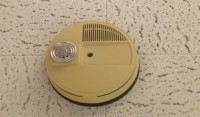 Michigan State Fire Marshal Kevin Sehlmeyer has announced a statewide campaign to put more smoke detectors into homes. A FEMA grant of $525,000 is helping to fund MI Prevention, the statewide campaign to promote the alarms and fire safety awareness. Sehlmeyer spoke with WSJM News about the effort.
"We're going to get out across the state and we've got about 25,000 smoke alarms to put up and almost 6,000 carbon monoxide detectors to put up," Sehlmeyer said.
Sehlmeyer says the smoke detectors that his office is working to distribute have ten-year lithium ion batteries in them.
"We are making these smoke alarms available to any fire department in the state," Sehlmeyer said. "You start looking at 25,000 smoke alarms, we have to date 88 fire departments that are working with us."
That includes the fire department in Baroda. Sehlmeyer says 139 Michiganders died in fires that caused more than $260 million in property damage last year. So far this year, 38 people have died in fires in Michigan. Anyone who wants to receive a smoke detector through the new program should contact their local fire department.