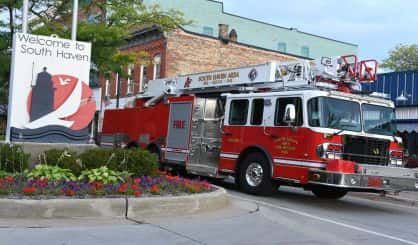 If you happen to be in downtown South Haven this Sunday morning, you will see many fire trucks, hoses, and firefighters. There's not a fire, nor a movie being filmed. It is a large scale fire training drill. South Haven Emergency Services Chief Ron Wise told WSJM News what you will see.
"We're doing a large test to see how much water we can flow in our downtown area in the event that we have a large fire," Wise said. "Most downtowns when they burn, it's normally a very large, horrific fire, and we'd like to stop that with a large flow of water, and we want to prove what we can flow."
That affects Williams Street from Center to Phoenix Street, and Center Street from Phoenix to Williams Street. Quaker Street will also be blocked from Center to Williams Street. Several area fire departments will be participating in the drill from starting at seven Sunday morning and Chief Wise says the public is welcomed to watch.