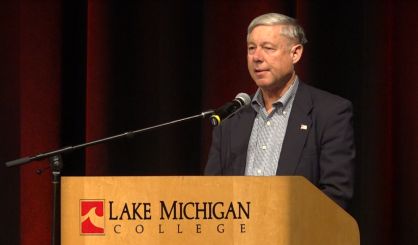 Congressman Fred Upton this week joined with colleagues from the Great Lakes states in signing a letter in support of President Trump's request for $75 million in the next federal budget to build a new Soo Lock. Upton tells WSJM News the Poe Lock, the biggest of the locks, is more than 60 years old, and it's time a back-up is built.
"We've got to start because the consequences of sitting on our hands and doing nothing are just unacceptable," Upton said. "Literally all of the iron ore that's mined up in Canada and in Michigan and parts of Minnesota coming down to make steel, forge steel in the Great Lakes states, comes through that single lock."
Upton says it will take about ten years and $1 billion to get that new lock. The letter signed by Upton and his colleagues is being sent to the chair and ranking member of the House Appropriations Subcommittee on Energy and Water Development. The $75 million sought by the president would get the ball rolling on that Soo Lock project.