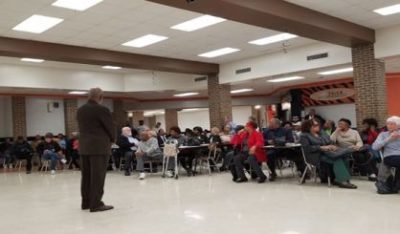 It was a packed house at Benton Harbor High School Wednesday night for a town hall regarding the future of Benton Harbor Area Schools.
On hand were members of the State Board of Education, and local residents who spoke told them years of state intervention in the district haven't helped, too many programs have been lost, and the district relies on too many substitute teachers. There was also support for having the state help the district out of its $18 million debt. State board President Casandra Ulbrich told WSJM News they will take the information they heard back to Lansing.
"We don't have the ability to create legislation, we don't have the ability to mandate what the executive office does," Ulbrich said. "However, we do have the ability to advocate on behalf of the citizens of Michigan."
This all comes as the end of the School Reform Office will possibly mean a return of local control July 1. To that end, Benton Harbor Area Schools Board of Education President Stephen Mitchell told us he was glad to hear some of the public's thoughts.
"After hearing the comments that were made this evening, it really assures me that the community is in support of local control, and they want to see things turned around," Mitchell said.
Mitchell said the board can work with current CEO Robert Herrera in a traditional superintendent's role come July 1. Benton Harbor Education Association President Matthew Nicholls says he wanted to tell the state board instability must be avoided.
"The biggest thing that I have heard from the teachers is that they want stability, and that's something that we have sorely lacked over the last ten years or so," Nicholls said. "We have had an merry go round of superintendents."
State board President Ulbrich told us details are still being worked out regarding what will happen to Benton Harbor Area Schools when the School Reform Office is ended. When that happens and local control is possibly returned, the debt will still be there. Mitchell hopes for a continuing dialogue with the state.