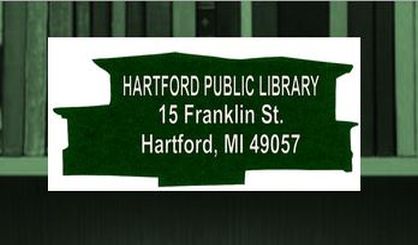 The Hartford Public Library is now ready to move forward with plans for a new home thanks to a $400,000 grant from the National Endowment for the Humanities. Library Director Stephanie Daniels tells WSJM News the goal is to acquire the old Red Arrow Elementary School on East Street, and then replace it with a new facility to be called the Art and Bonna VanDerlyn Community Center and Hartford Public Library.
"Not just a library, but a 21st century community humanities center," Daniels said. "We'll have areas for literacy, we'll have areas for teen involvement, we'll have a maker's space lab. People can come in and paint and color and draw, and use our 3D printer."
Daniels says it will also house the Van Buren Genealogical Society. Bonna Vanderlyn has pledged $1.3 million for the project, and the $400,000 from the NEH gets the library up to the $1.7 million price of the property. Construction could begin this summer. The Hartford Public Library will also aim to raise another $300,000 to complete the interior of the new facility. Anyone who wants to donate should call the Hartford Public Library. It has been in its current building since 1925.