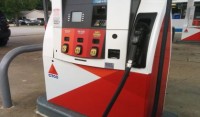 You likely noticed a big jump in gas prices this week, going from $2.56 in St. Joseph and Benton Harbor on Monday to $2.71 now according to AAA Michigan. GasBuddy analyst Patrick DeHaan says factors include crude prices being up, refineries doing spring maintenance and the turmoil in Venezuela, but the main reason is the end of the supply for relatively cheap winter blends.
"Now that the winter gasoline is basically on its way out, the discounts of gasoline are gone and we're talking about seasonality, which is refinery maintenance and the transition (to cleaner-burning summer gas)," says DeHaan. He says prices are likely to climb back to around the $3 per gallon mark before the summer hits.
Michigan's gas prices normally peak for the year around Memorial Day and start falling dramatically in the fall and winter. GasBuddy's website shows a wide range in Michigan with a low of $2.29 in Dearborn and a high at one station in the Upper Peninsula near the Wisconsin border of $3.25.