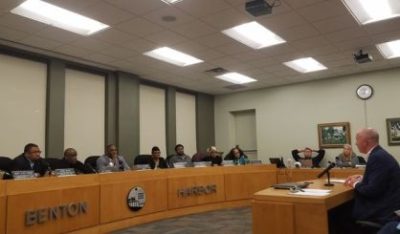 Benton Harbor City Commissioners have signed off on plans for an apartment development downtown. At a Monday meeting, the city commission approved the establishment of an Obsolete Property Rehabilitation District and a 12-year tax break for Cressy Commercial Real Estate to redevelop the Harbor Center building at Pipestone and Main Streets. The plan is to invest $2.5 to $3 million in turning the building into 14 apartments and two commercial spaces. Mayor Marcus Muhammad said the vacant building is currently dilapidated.
"I toured the building, and I probably should have went to now-called Spectrum right afterward due to the toxins and the horrific conditions of the building," Muhammad said.
Following Monday's action, the property's taxes will be frozen at their 2019 level for 12 years for the developer to recoup costs. Muhammad noted there would still be taxes paid on the property during that time. They would just be at their current level rather than increasing when the work is finished. Cressy Commercial Real Estate CEO Chris Fielding said the bank needs to see that kind of incentive to finance the project.
"When we're showing flat taxes for ten to twelve years, that's what they're looking for," Fielding said. "It makes the project less risky for them."
Up next, the project needs approval from the Michigan Economic Development Corporation. Work could start in May or June. Fielding estimated the apartment units would start at $1,000 per month to rent. Following approval, Cornerstone Alliance President Rob Cleveland told WSJM News the project will be a win for the community.
"This is a true community project, and Benton Harbor got better tonight."
Cornerstone Alliance says the 2,000 square foot structure in question was built in 1882 and was originally referred to as the Gray Building. It underwent a facelift in 1961, and has since been referred to as the Harbor Center Building.