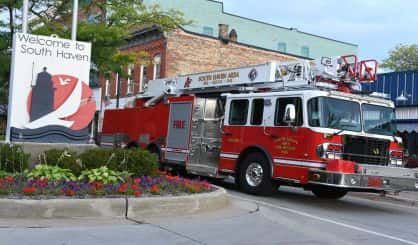 The city of South Haven and three nearby townships have extended for 25 years the agreement that created South Haven Area Emergency Services. SHAES Director Ron Wise tells WSJM News South Haven, South Haven Township, Casco Township, and Geneva Township formed the agency in 1995 for fire and ambulance service.
"Since we've become the authority, it's really allowed us to pool our resources," Wise said. "With three townships and a city working together, we've been able to share the costs of fire apparatus, the ambulances."
Wise tells us the affected communities share the costs according to need.
"The ambulance is based on population, and then the fire coverage is based on taxable value of property," Wise said. "So it's a really nice way for small townships and larger cities to come together and share the resources."
The governing boards of the municipalities have approved the extension through 2044, and the South Haven Area Emergency Services Authority approved it on March 7. Wise tells us SHAES was the first authority of its kind in Michigan. Today, the agency has 16 full-time and 30 on-call staff operating from three stations. The SHAES budget in 2018 was just under $2.7 million. The city of South Haven in 2018 funded 22% of the budget, followed by Casco township 17%, South Haven township 11%, and Geneva township 9%. The Van Buren County ambulance millage and user fees each provided 20% of the budget.