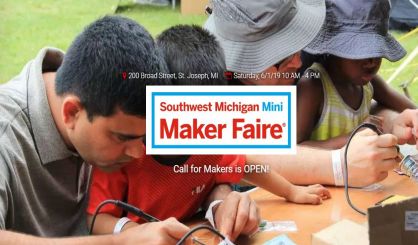 Preparations are underway for the fifth annual Southwest Michigan Mini Maker Faire, and organizers are looking for makers to take part. Berrien RESA's Joe Rommel tells WSJM News the fair is a chance for anyone with a passion for creating to show off what they can do.
"Anyone that's willing to share their passions, what they're interested in, and their process for making and creating things with people," Rommel said. "It could be someone who does this as a hobby, or someone who does this professionally, or a student group. We'll look at anybody that's interested in coming over and sharing that day."
The Mini Maker's Faire will be held on June 1 at Whirlpool Centennial Park in St. Joseph. The people who take part show off everything from drones to glass blowing to crafts. To sign up for a display as a maker, visit the website of the fair.