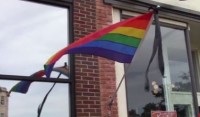 A non-discrimination ordinance will take effect next Thursday in St. Joseph to specifically protect the civil rights of the LGBTQ community. The city commission unanimously passed the change on Monday after a few months of discussion. Mayor Mike Garey praised the move.
"Good government takes care of all, on an equal level," Garey said after the vote, which was met with thunderous applause in a packed city commission chamber along with a standing ovation. Mayor Pro Tem Laura Goos worked on the ordinance with Commissioner Jeff Richards and thanked the community for its support.
"Without getting choked up, I do want to say that my daughter is in the back," said Goos. "And I'm super excited for the example that we're setting for the kids and future generations by doing something like this."
OutCenter director Mary Jo Schnell helped work on the ordinance with the city once they reached out to her, and told WSJM News she was "overjoyed" by the vote.
"To have a standing-room only meeting that results in a standing ovation, it felt like belonging in the most amazing way possible," said Schnell after the meeting.
The ordinance does not apply to allegations that are legally valid under state or federal law, and lists examples of practices that have been determined valid under current law. The list is not exhaustive and recognizes that the status of state and federal law changes from time to time. Violators are subject to a fine of up to $500 plus the costs of the investigation and prosecution.