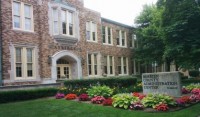 2018 was a busy year for the Berrien County Land Bank. Berrien County Treasurer Bret Witkowski tells us the entity manages foreclosed properties that can't be sold at auction. He notes a big deal in 2018 was the sale of the former Alreco property in Benton Harbor, which is going to a medical marijuana producer.
"It's an abandoned facility in city of Benton Harbor that went up for auction a couple of times," Witkowski said. "No one had any desire to pick it up. It went to the land bank and the market changed. Now it's going to be sold for a decent amount of money that would put it back on the tax rolls in the city."
Witkowski says that's the goal of the land bank — to get properties back on local tax rolls.
"Anything that can be done to put the property back in the public's hand where they're on the tax rolls and things of that nature," Witkowski said.
Witkowski says a lot was done to remove blight at land bank properties in 2018 thanks to grants, and he notes YouthBuild helped to rehab some homes in Benton Harbor. He released the annual land bank report last week. The land bank sold 61 properties in 2018. 89 remain available for purchase.