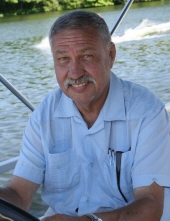 Glen Shoop was born on January 17, 1947 in Berrien Springs, and transitioned to heaven on February 1, 2019 while on vacation in Florida.
He was the youngest of three children of Homer and Doris Shoop of Berrien Springs.
Glen fell in love with Jill Benson, and proposed to her two weeks after they began dating. They were married for 42 years, raised two daughters together, and were blessed with seven grandchildren.
Glen graduated from Berrien Springs High School in 1965 and began college, though did not find his calling. He was drafted into the Army and served at Fort Leonard Wood, MO. After his time in the service, he continued to support the military as a member of the American Legion Post 85, serving in a multitude of positions, including commander. He was honored to deliver the Memorial Day speech at Rose Hill Cemetery in 2006, while going through treatment for stage 3 colon cancer.
After his time in the Army, Glen went back to school and graduated from Western Michigan University with his teaching degree. He taught English, journalism and speech at Eau Claire High School for 29 years.
Glen loved to travel, and one of his greatest joys in life was leading the Japanese Exchange Program for Berrien Springs, traveling four separate times to Chuzu, Japan.
He also made it his goal to travel to all 50 states in his lifetime and reached his goal in 2008. He loved each trip he took but especially loved his time in Alaska and Florida.
Glen's favorite pastime was spending time in the sun on his boat. In his youth, he was an accomplished water skier, and was part of one of the first waterski formations in the state of Michigan. Throughout his life, his summers were spent cruising Lake Chapin with family, and he loved sharing his boat with others. His winters were spent counting down the days until summer.
Surviving Glen are his wife, Jill Shoop of Berrien Springs; daughters, Kallie (Mike) Ott of Berrien Springs, and Katie (Jack) White of St. Joseph; brother, Frank Shoop; and his beloved grandchildren: Allison, Emily, Natalie, Charlie and Tyler Ott, and Connor and Carson White.
Preceding Glen in death were his parents, Homer and Doris Shoop; and his brother, Wayne.
Visitation will be Tuesday, February 12, from 6-8 p.m. at Allred Funeral Home and at Berrien Center Bible Church on Wednesday, February 13, from 10 a.m. until the funeral at 11 a.m. Interment with military rites by the Berrien Springs American Legion Stover-Wagner Post 85 will be in Rose Hill Cemetery, Berrien Springs.
Memorials can be given to Caring Circle, Berrien Center Bible Church or the Berrien Springs Area Endowment. Online messages may be left at www.allredfuneralhome.com.
Posted On: Monday, February 11, 2019 4:41 PM