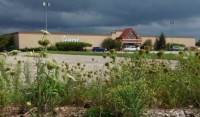 The Orchards Mall in Benton Township has paid its taxes. Berrien County Treasurer Bret Witkowski tells WSJM News the mall's new owners, Durga Property Holdings out of Cincinnati, submitted a check for more than $220,000 on Tuesday. That covers the 2016 property taxes, avoiding foreclosure for another year about two months before the money was due. Witkowski says the payment could be a sign those new owners will do better than some owners of the past.
"It takes time, then, to change their reputation, and I think that's just what they're going to have to do," Witkowski said. "Increase the traffic out there, take care of the parking lot. Just little things that have been neglected horribly over the last four or five years."
Witkowski says the mall still owes a total of about $221,000 for 2017 and 2018 combined. He says now that 2016 is paid, and not at the last minute, he's willing to work out a payment plan on the mall's other back taxes. He says this week's news means the tenants of the mall can rest a little easier.