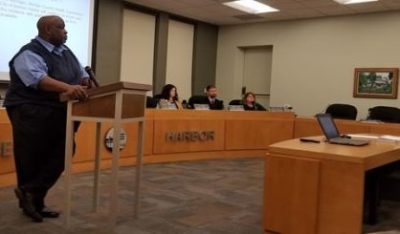 The city of Benton Harbor is working with Berrien County and the state of Michigan to address elevated lead levels found in some homes around the community last year.
The city detected the problem in October, and since then about 320 residents have brought in samples for testing. About 50 of those had elevated lead levels. At a town hall Thursday, the Berrien County Health Department's Nicki Britten said everyone is advised to flush their water for five minutes whenever it's not been running for six hours or more. Additionally, the county is providing filters to the homes known to have elevated lead levels, and it will provide them to everyone starting February 4.
The Michigan Department of Environmental Quality added the state is also taking action in the next few months.
"The Department of Environmental Quality will be working with the city in conjunction with DHHS to install a more advanced treatment system at the water plant to add a phosphate chemical which will act to coat the interior of the pipes and prevent lead release throughout town," said Ernie Sarkipato of the Michigan Department of Environmental Quality.
Benton Harbor City Manager Darwin Watson said a $280,000 state grant will be used to replace water lines from the street to the affected homes. Those old connections are believed to be the problem. The city is now conducting an inventory of its water system to prepare for even longer-term work. Britten reported Thursday there have been no increases in elevated blood lead levels among the city's children.